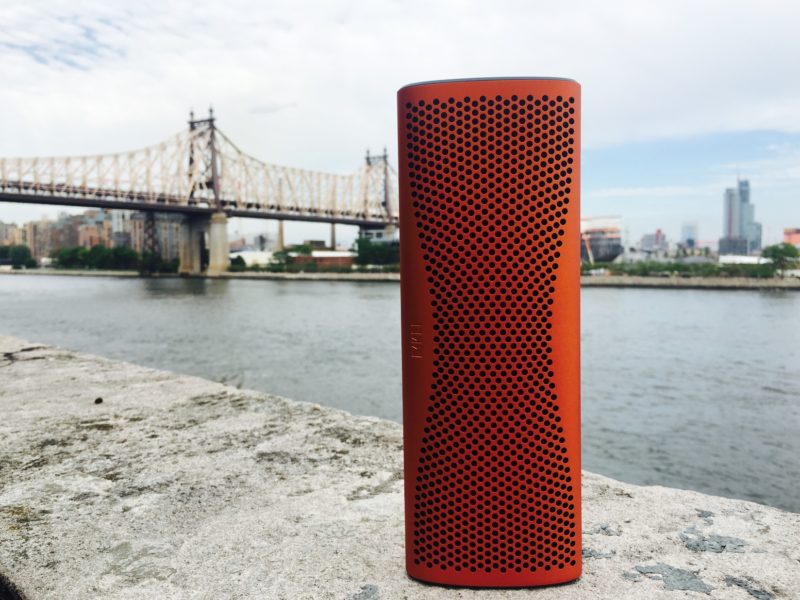 I know what you are thinking…oh yay, another wireless speaker review, been there, done that, but au contraire my friends,the stunning new KEF MUO is more than another average portable wireless speaker. This new little beauty has been designed by Ross Lovegrove, who created the sculpturally striking Muon floor-standing limited edition speakers (there were only 100 produced). So you can can say that these are the children of that limited edition classic. This is luxury sound in a bite-size package.
The MUO Wireless Speaker is a great option for anybody looking for great sound quality in a stylish and compact form factor. No hiding this speaker in your basement, this beauty demands to be seen. With state-of-the-art wireless KEF sound, this pocket-size speaker is designed to stream music wirelessly from your PC or mobile device without sacrificing quality.
Looks alone set this thing apart, though. It's essentially semi-cylindrical and comes in six colors – grey, blue, black, red, pink and gold. The Ross Lovegrove designed speaker embodies simplicity and style.
It's the specs which are surprising, though. KEF's well-known UNI-Q point source driver array has been packed into the smallest casing yet, and the new bass radiator means that the MUO Wireless Speaker can fill the room with accurate, clear and high quality sound. The HF definition and LF extension seriously exceed what normal portable speakers can achieve, and it's instantly noticeable. Despite the MUO's small form factor, the sound experience can fill the room and can handle a full range of audio files with aplomb.
Whether it be FLAC, WAV, AU, Raw, etc.. the MUO stands on it's own and even at some of the most extreme volumes, doesn't exude any static feedback (that crackle sound you hear when speakers can't handle extreme highs or lows). Bass is rich as are highs and mids – giving listeners a very balanced experience with lots of body.
On top of that, the drivers built into the speaker are mounted completely rigidly within the aluminum shell, ensuring clear and solid sound. You really have to hear this speaker to believe how good it is.
Stand it horizontally or vertically, this speaker looks pretty amazing. You can pair it with pretty much any iPhone or Android device, and there's even an NFC 'tap-to-pair' function that takes away all the trouble of searching for the right Bluetooth device, disconnecting one device and then reconnecting another. It's a really neat feature that we love and one we hope other manufacturers will start incorporating. You can even pair one Muo with another, giving you a complete and portable surround sound experience. Despite it's small stature, it actually is a bit heavy at 1.8lbs and you'll definitely feel it when lugging it around in a tote.
In terms of play time, it's pretty respectable. This little device will give you about 12 hours of straight play time, but it automatically switches itself off to save battery when you're not using it. The KEF Muo is simply a stunning looking wireless speaker and for it's size, and impressive sound quality, this makes it one of the best speakers on the market right now. The KEF Muo currently retails for $349.99 and is available at KEF Direct or on Amazon.
Surprise! We are actually giving away the KEF MUO, so that one lucky reader can experience it for themselves. So be sure to enter our contest below for a chance to win.
KeF MUO Wireless Speaker Review
The Good
Sleek sophisticated design
Impressive full bodied sound
No sound distortion at high volumes regardless of audio file type
12 Hour battery life
International power adapters are included, so you can take your MUO abroad.
The Bad
No carrying case, despite the MUO's portability
For it's size, it is actually a little heavy at 1.8lbs.
Pricing is at the higher end of the market for this type of speaker.