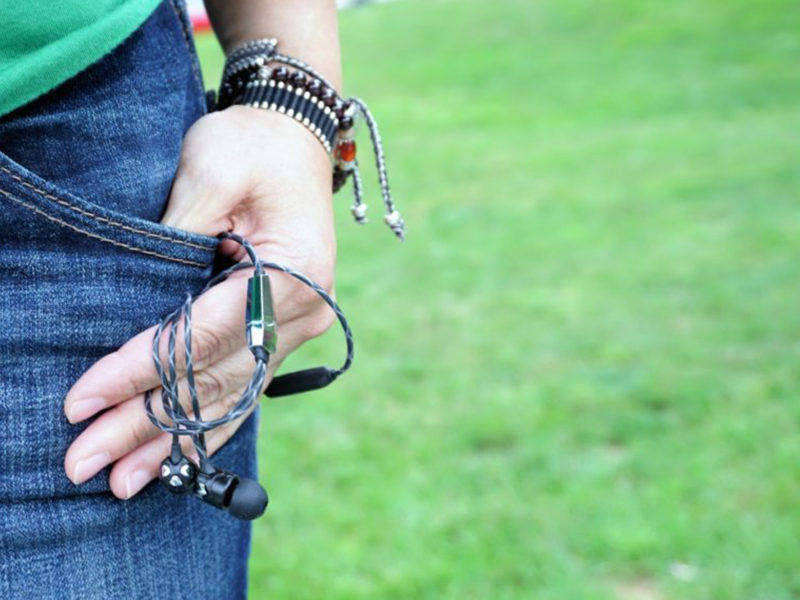 Can a pair of in-ear headphones compare in sound quality to a full size pair of on-ear headphones? The latest offering from V-MODA not only answers the call but delivers.
V-MODA CEO, Val Kolton told me last year that "they were coming" and after 4 long years, the V-MODA Zn is finally here. Having reviewed almost all of V-MODA's gear, it's not surprising to see that the Zn borrows heavily in design from one of it's predecessors, the in-ear V-MODA Vibrato. The Zinc Metal housing of the earbuds are almost exactly the same design as the Vibrato, keeping with the classic Italian style V-MODA is famous for.
As with all V-MODA headphones – details matter. At first glance, you may think the price is a bit high for a pair of in-ear headphones, but V-MODA makes sure you get a lot of bang for you buck. While most headphone manufacturers now provide you with different size eartips, V-MODA includes 4 different size BLISS (Bass Level Isolating Soft Silicone) tips. These next generation BLISS 3.0 fittings enhance noise-isolation and enable rich bass as well as a snug fit. In addition, V-MODA also provides sport-hooks, transforming the Zn into your goto pair of headphones for the gym. Lastly, even the design of the carrying pouch is relatively the same – except for the color of the stitching.
The biggest change from V-MODA's previous generations of in-ear headphones would be the new DiamondBack TangleFree Cable. V-MODA is typically known for outfitting their headphones with a woven kevlar cable, but this time, they have shook it up with switching it to a kevlar-reinforced cable that is no longer fabric in texture. True to their word, the cable is tangle free after shoving it in my pocket on numerous occasions and shaking them loose. The build quality of the Zn is in-line with the rest of V-MODA's audio arsenal – military level quality that can withstand pretty much any type of abuse. If for some reason, the Zn manages to get busted up – V-MODA is offering a 2-Year Warranty and if you are afraid of commitment, they are also offering a 60 day trial period.
What hasn't changed, and only improved is the big rich sound V-MODA continues to deliver time and time again. The Zn features 8mm dynamic drivers which immediately give that 'wow' sensation as soon as you put them in your ears. Bass sounds bold, along with super crisp mids and highs. You certainly get a very balanced listening experience but for bass lovers, don't worry when your low end tunes start playing, you immediately feel the sensation in your ears but not an overwhelming thumping in your head.
The Zn also features a 3-button remote/mic which is not the Zn's strongest feature as we experienced many muffled calls through hours of hands-free conversations. Is the Zn's main feature to be a hands-free set? No. So it does the job satisfactorily but the voice calls could be crisper and clearer.
We can't always schlep our large over-ear headphones around all the time, and when that happens, the Zn is a great substitute. Providing a wide soundstage and the sensation that you feel like you are wearing behemoth sized headphones, instead of thumbnail size earbuds. While many casual listeners and even audiophiles are starting to drift towards wireless in-ear headphones, the V-MODA Zn will make you fall in love with wired in-ear headphones all over again. The V-MODA Zn In-Ear Modern Audiophile Headphones with microphone – 3 Button
 retails for $180 and is available now at Amazon.
V-MODA ZN In-Ear Headphones Review
The Good
Delivers a rich balanced sound with no overwhelming bass.
Signature V-MODA Design
8 Different Tips, Sport Hooks, and Carry Case
Military grade quality with a 2 year warranty
The Bad
Hands-free calls are muffled sounding.
You sacrifice BLISS tip technology if you change your ear tips.