Honda is doing something pretty unique to celebrate the 25th anniversary of iconic SEGA game, Sonic the Hedgehog. The car manufacturer has released a custom 'Sonic Civic', based on their turbocharged 2016 Civic Touring Sedan.
The car made its debut at a sold-out Sonic anniversary event hosted at Comic-Con 2016 in San Diego. James Jenkins, Public Relations Manager for the Honda Division and clearly a fan of SEGA (we hope!) compared the new, sporty Honda to Sonic as a result of it being one of the quickest and sportiest vehicles they've ever produced.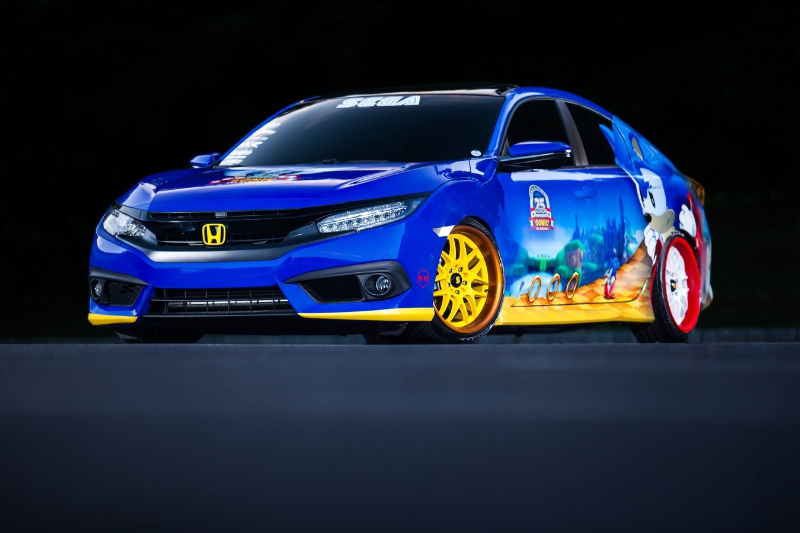 With red, yellow and white wheels and a pretty impressive custom paint job that features Sonic running across one of the classic Sonic landscapes, this is one amazing looking car. Jenkins said that he hopes all Sonic fans, including those who remember playing it all those years ago when it was first released, will 'rejoice in this all-new ride, as much as we enjoyed creating it!'.
So what makes the car special? Well, along with the wheels designed to look much like Sonic's famous red shoes, there's also an amazing custom interior that's every young gamer's dream. With Sonic the Hedgehog front and rear seats, finished in Katzkin Blue leather, and even custom Sonic 25th anniversary embroidered logos.
It's the sound system that makes this extra special, though. The team at Honda have installed a Rockford Fosgate audio-visual system complete with two 500-watt 10-inch, T1S2 subwoofers. There are also two TM400 amplifiers and even a floor-mounted 32-inch flat screen television for playing all the classic Sonic the Hedgehog games. Beyond gaming, the sound system is pretty impressive, and along with the latest in-car connectivity technology, including CarPlay by Apple and Android Auto, meaning you can hook up your phone, play your favorite tunes from Spotify or Apple Music, and enjoy a total hands free experience.
If only the car was on sale!
[Honda]