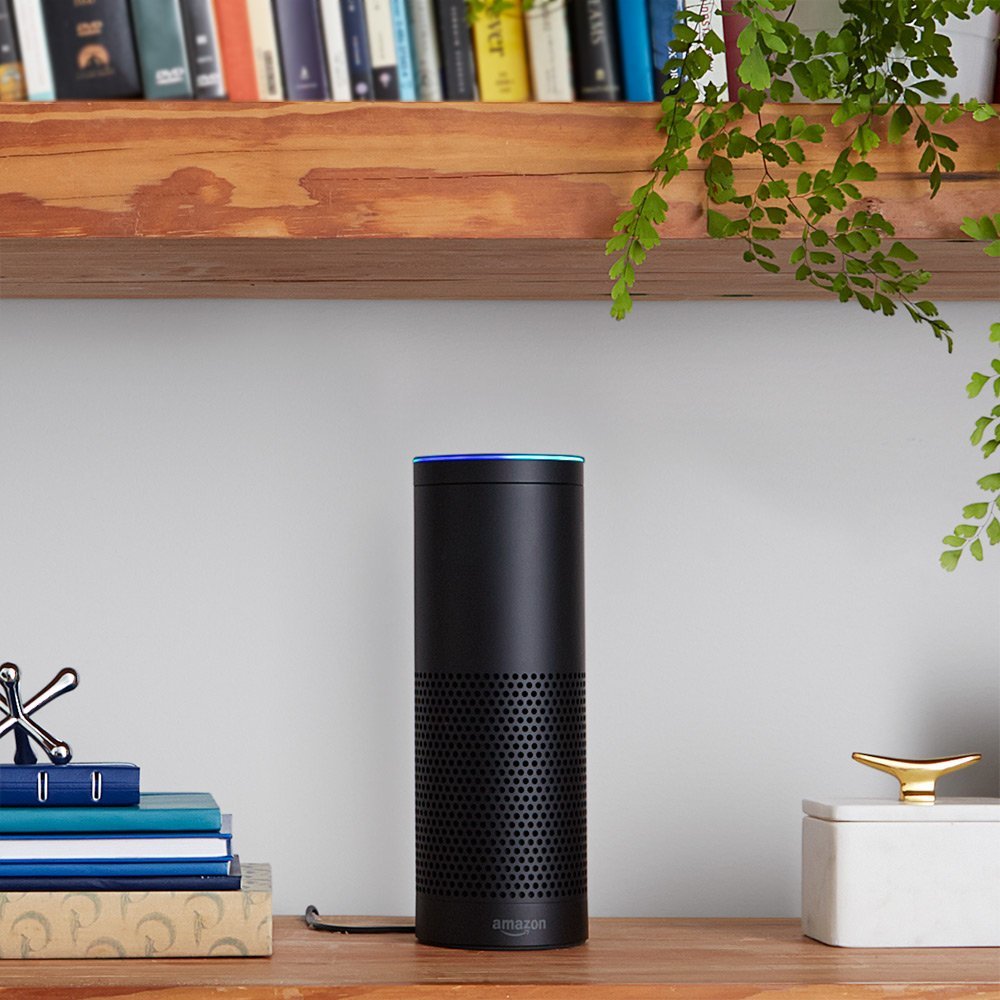 In development since 2010, Amazon Echo launched to invited members and Prime members in late 2014 and then to the rest of the U.S. in Summer 2015, it has taken America by storm with it's built-in, Alexa, voice-recognition software, and has become invaluable to many users.
Amazon Echo is a voice-enabled cylindrical mono speaker with a built-in seven piece microphone array, to perform tasks such as setting alarms, turning on lights and other smart devices, music playback, directions, weather, even getting an Uber or ordering a pizza from Domino's. Very fascinating, indeed.
I had heard about it for awhile as well as its offspring, Amazon Tap, which is a portable, smaller version of the Echo with stereo speakers. Lastly, there is also the extremely backordered, and newly released, Amazon Echo Dot, a version of the Echo, about the size of a small jar of Layrite pomade (you know, the stuff that shapes my hair in my profile picture), it has the ability to connect to your existing stereo system or Bluetooth speaker and instantly turns it into an Alexa-enabled device. Very cool.
So let me tell you a bit on about how I finally pulled the trigger to bring Alexa into my household. I had heard from a friend that there was an Amazon pop-up kiosk in the Queens Center Mall in Rego Park, Queens. Curious, I ventured out there and sure enough, there was a small 20 x 20 kiosk that had all of Amazon's products featured and also to sell.
I was greeted by a very friendly sales associate whose name ironically was Alexandra, who I eventually kept referring to as "Alexa", purely by mistake. She was extremely helpful and knowledgeable and gave me such a great demo and run down of Amazon Echo and Alexa technology that I was compelled to buy it, right on the spot. This was very convenient to be able to buy it in person, same day, with no hassle or wait. It will be interesting to see if more of these Amazon kiosks, or perhaps Amazon brick-and-mortar retails stores pop-up soon. Best Buy, you may have some competition in the near future.
When I got it home, the setup was super easy. You download the Alexa app, follow the on-screen directions via the app as well as the changing colors of the Amazon Echo, let it search your Wi-Fi network, connect, and you are done. That's it.
The first time you command Alexa to play one of your favorite songs or artists' and she replies to your command, without you pressing a single button – it instantly puts a smile on your face and makes you realize, Holy Crap! we are actually in the 21st century. The music playback feature is without a doubt, invaluable, especially when having that friendly gathering, dinner party, or date night.
To activate the variety of Alexa's skills, you must always use the "Wake-Word" of Alexa, but also it can be changed to "Amazon" or "Echo." There is also a mic mute button to ease your paranoia and privacy concerns if you think Amazon is listening to your conversations. Please note, Amazon does retain the digital recordings of users spoken words after the "wake up word." So once you say, "Alexa…" just be sure to be mindful and intelligent on what you say or ask her skill set to do.
The Echo is a permanently plugged in device, although, a quick Google search reveals, some suppliers, who make aftermarket batteries for Echo, that turn it into a portable speaker. However, it's one heavy speaker and I would advise getting the Amazon Tap instead if you are looking for Alex-enabled portability.
There are a variety of Alexa-apps that exist, including a Yo Mamma Jokes, app where Alex can tell you Yo Mamma jokes, all day. I'm not kidding, and even Jeopardy if you are feeling like gaining vast knowledge that day. I even sometimes ask Alexa to Wikipedia topics and people, "Alexa, Wikipedia, Freddie Mercury." BAM! She starts to read his bio and then asks if you want her to tell you more and you can get quite an education. Take that Siri!
With the additions of apps and teaching Alexa new skills, she also sets my alarm in the morning, makes my grocery lists, reminds me things, tells me the weather, directions, train delays, even if there is traffic in the Midtown Tunnel!
You can buy other Alexa-enabled add-ons and turn your home into a smart home by having Alexa turn on/off the lights, even control the thermostat.
The only drawback if I ever could have one about Alexa is that, certain annunciations of words, she struggles with. For example, "Alexa, Please play the song, GenerationWhy by Zhu from Spotify." Her response is that she can't find that song. It is a Chinese name and pronounced differently then it is spelled.
I've already been told by a few people, who have seen my interaction with Alexa, that I need to see the 2013 Spike Jonze movie, Her. Apparently, my interaction with Alexa reminds them of the concept of that movie.
Outside of that, everyone needs this in their home, bottom line. Christmas, a gift, just find a reason and get one or give one, it is invaluable and will change your life, just like it changed mine. So who wants to #AlexaAndChill with me?
The Amazon Echo is available now at Amazon.com for $180. The Amazon Echo Dot is $89 and currently sold out and backordered for months, and is going for up to $250 on ebay! Then there is always the Amazon Tap, if you really can't wait for the smaller Echo Dot.
The Good
The next generation of speakers have arrived
Alexa, voice-recognition software transforms Echo into more than a speaker.
Design does not impose on a room and fits anywhere
Addictive device that will quickly become your best friend.
The Bad
Budget friendly
Sound quality is just average
Heavy and not easily portable.
Alexa doesn't always understand what you are requesting